2012 Antiques Show
Justin Korn
The 26th Annual Antiques Show is right around the corner, it's actually this upcoming weekend. In spite of a tiny venue setback to the function's usual homestead, the Bryan Memorial Town Hall— no thanks to a propane gas explosion (luckily, no one was hurt!)—The 2012 Washington Connecticut Antiques Show will take place at the Washington Primary School.
The much-anticipated antique weekend retreat runs from October 5-7, with two days of browsing works ranging from 16th century to modern/mid-century pieces, coupled with two nights of cocktail affairs.
New this year, the WCAS hosts its inaugural Collectors Party, which will be held Saturday, October 6, to allow ample opportunity for out-of-towners who cannot attend the Preview Night cocktail party slated for Friday, to disperse amongst a sea of antique aficionados and mingle. And while attendees discuss the exceptional curated artifacts coming from all over the globe, some fit to be props in an episode of Downton Abbey, vocalist Allegra Levy and her quartet will play a set of jazz standards to set an elegant tone.
The Antiques Show has drawn a huge following in the past, with private contributions from the fundraiser bolstering the town's library and museum. "The antiques show is definitely our largest fundraiser, generating a substantial portion of our annual operating income. Nearly 80% of our operating income is met by donations," Says Wendy Rhodes, the library and museum's Development Support.
Gunn Memorial Library and Museum is one of Connecticut's most prized possessions. With the museum receiving several accolades and three awards, on state and national levels, for its 2011 Civil War exhibit, the library also received good news at the polls. A Connecticut census collected statistics asserting the number of visits to the library was double the number of visits per capita of towns of a similar size.
The Washington Connecticut Antiques Show, now in its 26th year, isn't just about displaying majestic furnishings alongside exceptional artwork. It's an experience. From the moment you enter the show, you'll be greeted with floral arrangements showcasing the wizardry of Chris Giftos, former floral master at the Metropolitan Museum of Art. You'll also see Designer Tablescapes transforming mere tables into opulent grounded structures, created by a slew of generous volunteers including Philip Gorrivan, Karen Davis, Florence de Dampierre, and Ostafin Design, Ltd. for Privet House.
Preparing for the weekend affair was quite a tall order. With regards to transitioning the show to Washington Primary School, Wendy recalls, "[It] required a tremendous amount of planning, but we are grateful to the school and the Board for allowing us to use their space, and to the Director of Facilities and Custodians for all of their flexibility and support." And when all is said and done, quite a few antiquers will happily peruse the displays of 20 dealers from around the Northeast in search of that one-and-only grandfather clock that perfectly complements the foyer.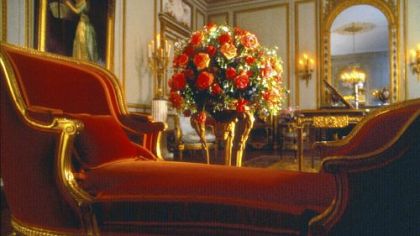 Reservations for the Friday and Saturday evening parties are highly recommended and can be made by visiting www.gunnlibrary.org. Each party is $125 per person and up. Daytime show hours are Saturday, October 6, 10am to 3pm and Sunday, October 7, 11am to 3pm. Daily admission to the show is $10, payable at the door. For additional information, please contact the Gunn Memorial Library at 860-868-7586 or email gunndevelopment@biblio.org